⏦ 003 — Unpacking travel, but mindfully
Sintra, Commercializing ancient rituals, Mindful packing/unpacking
Hello mindful readers, thinkers, and 'ers of all kinds. I spent most of this week simply enjoying time in the sun since the month of August in Europe is perfect for that sort of thing. Not too hot. Definitely, not cold. But, somewhere in-between. Last weekend, I made a fleeting trip out to a small, old, historical town and national park, Sintra, which is about an hour west of Lisbon, Portugal. I've been meaning to visit Sintra before on previous trips, but, eh, logistics. If you ever get the chance, I thoroughly recommend a full-day (avoid Sunday unless you enjoy crowds) to give yourself enough time to explore the cobbled streets, parks, and Palácio Nacional de Sintra — a palace built sometime in the 15th century.
⏦ 15th century palaces, a lot of walking, clickety-clack bumps of stone cobbled roads, some quick-but-satisfactory mindfulness, but mostly just trying to stay hydrated with this hot Portuguese sun beating down. Olá from atop Sintra.
The piece on "Seeking discomfort in your commute" from last week's dispatch apparently resonated with many readers, such that you even shared your thoughts and experiences with me. Some excerpts:
"My commute fyi is by bike - we know the meditation benefits of this - and I use it as podcast time" —ED
"I don't know when I began popping Ubers like Maltesers, but I was thinking about it recently and decided to be way more mindful of the way I throw away money on stuff like that…" —ZE
"I think one of the coolest benefits of walking, biking and public transport is the interactions with communities of people. Every trip is a learning experience, I love it." —JC
And to the many of you who've shared private messages of support (and feedback) since I took pen to paper to keyboard, I'm now kicking myself I didn't get started sooner. It's been tremendously motivating, thank you.
---
→ Commercializing ancient rituals
Readers who may know me personally, will know meditation is dear to me and has been an important aspect of my life in the last few years. When I initially came up with the idea to start this newsletter, meditation and mindfulness were two interests I wanted to start talking about right away. However, after some basic research and information collection, I was rather disappointed to find most conversations and storylines weren't doing the ancient practices any justice.
If I'm being honest here, I'm terrified of all the glitzy attention and pseudo-advice being doled about (just login into social media) with limited reference back to history, culture, science or even technique. If we're not careful and neglect some basic moderation, the practice (in the west) may borderline a novelty and something I think has occurred with yoga in small patches — commercialized and watered-down.
O.k., that sounded serious and grown-up. With this outlet for sharing stories mine, and mine alone, all I hope for is to share an honest and refined perspective on the practice. If I end up just telling a different narrative then that's o.k. too.
---
---
→ Mindful packing/unpacking
When traveling, does the idea of packing your possessions into a transportable case to then later unpack conjure feelings of burden or anxiety? Do you hold off the task because it feels like a chore, or perhaps get triggered with impending queues and security checks at airports? Well, it needn't be this way.
If you approach the repetitive task with practical sensibility, reduction, and some mindfulness — there's an inherent calm it can offer. And with unknowns along a journey surely guaranteed, sometimes this calm could be an anchor in a trip marred by unexpected twists.
Having traveled extensively over the past decade, both through work and for leisure, I've noticed in that time I actually need less. Therefore, simply packing less has been the key for me to reduce stress that comes with travel. Whether it's a quick overnight business trip to a nearby outpost or an extended pilgrimage to a far-flung corner, each itinerary offers you an opportunity to think about possessions, ownership, and what is excess.
The fact that you cannot logistically take every item you own with you calls for a routine audit of your possessions, reassessing their intrinsic value, and evaluating their relevance to the whole. With the whole referring to your identity (more on that later). But for all the possibilities travel bestows, you'll likely fall back to a finite set of possessions which covers your basic needs. These finite possessions are something you should intimately get to know, so that you don't need to rely on memory, packing lists, or even apps.
My finite set of possessions — or travel field kit — is one I can depend upon for almost two-to-three weeks at a time, before I'll need access to proper facilities like washing or to make replenishments. They're more or less my life essentials distilled further into the most functional and compact. As an aside though, if you don't leave room or pack an item or two for the serendipity or unexpected that comes with travel you may not be accounting for the whole. So, for me that's bringing an additional camera lens (85mm) and a (casual) suit — you never know. Lastly the final possession, and in my opinion an investment, should be a travel case* (wheeled or not) befitting of the stories it will adorn over the years through scuffs, tears and dents — almost wabi-sabi like.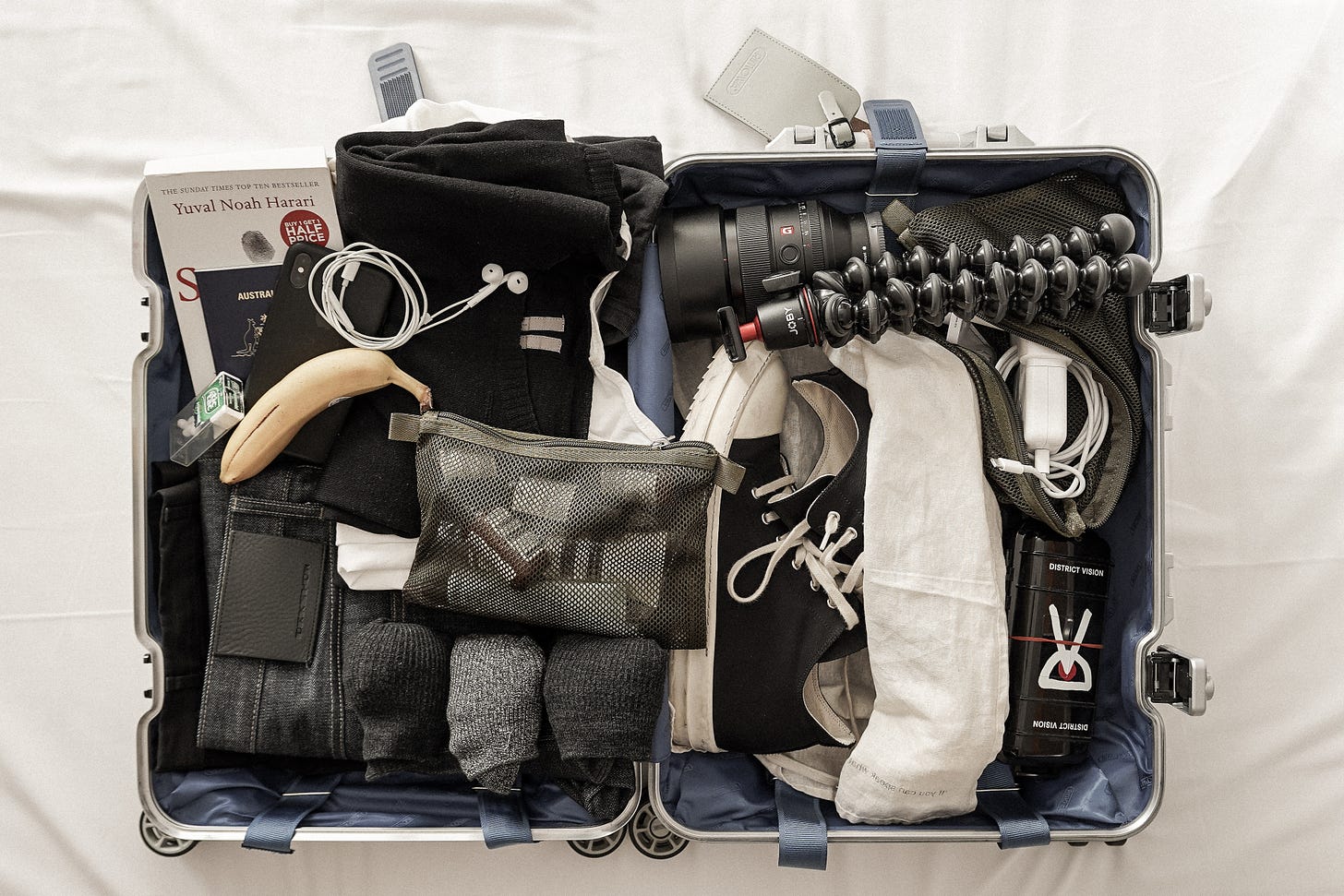 Life essentials stowed in my carry-on (August, 2019)
My travel field kit inventory looks a little like this (excluding items worn) currently:
Clothing — staples, jacket, suit, shoes (2x), laundry kit

Connection — laptop, phone, global sim, watch, peripherals

Curiosity — camera, lenses (2x), books or magazines

Digital — podcasts, apps, music, books

Prerequisites - passport, visas, currency, notepad, pen, herbs, vitamins, tote, travel case

Well-being — toiletries, skincare, running gear and shoes
Having traveled extensively over the past decade or so, I no longer need to think about my inventory, plus or minus an item or two, as it's usually always the same set of items I pack and replenish (I haven't strayed away from too many brands I like). Once you've fine-tuned your inventory, packing starts to become monotonous thus serving as a gentle meditation each time you prepare your kit for an upcoming itinerary or decompress having arrived from one.
* Word of Mouth review of my travel case, a Rimowa Original carry-on 30L, in next week's dispatch (004)
---
Now that we're three (três!) dispatches into The Considered, I'm no longer calling this an experiment, a test, or guise of any other nature. So far I'm enjoying constructing this newsletter each week for you, tinkering with the content whilst learning more about this medium, it's nuances, and the process.
Until next week-end,
—Arj
If you missed the last dispatch or are reading this for the first time, you can learn more about this newsletter, The Considered, here. Also, if ever you want you can unsubscribe below in a click.
---
⏦ If someone shared this with you consider subscribing above, and if you enjoyed reading this I'd appreciate it if you could tell someone else.
The Considered is a dispatch of personal notes, useful information, and passed down tips on how to 'live better', through the lens of the mind, body, and the things which intersect them (figuratively). There may be occasional Amazon affiliate links in newsletters where I could earn a small commission if you make a related purchase.
The Considered is by Arj Selvam.